Loriana Sekarski
September 7, 2023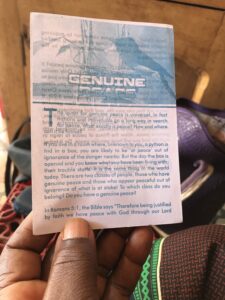 Don Smith, a client of ours, shared the following story during a recent call. I thought it was a powerful depiction of how you never know the full impact of doing what God calls you to do. The key is to follow where you are led. Feel free to share it with others, perhaps during a sermon or an organic conversation. You never know the impact you might make! 
My Dad, Don Smith, Sr., loved Jesus and served Him from his moment of salvation in 1943 until his Home Going in 2018. Although he had doubts and struggles and wrestled with his own sinfulness and with the Spirit's leading, he never wavered in believing. In fact, he was compelled to tell people about his faith and about his Lord Jesus whether it was the kids in his rough neighborhood, the soldiers and airmen he served with overseas, his co-workers, strangers in the store, or visitors to his church or home.  
After over 45 years of marriage, my Mom developed dementia. Dad, by this point, was limited in his physical abilities as well.  He felt like his usefulness was waning and often longed for the Lord to take both he and Mom home.  As Mom's condition worsened, we arranged for caregivers, many of whom had difficult stories of their own.  God brought a mission field to my Dad, the evangelist. Dad not only listened to their stories, but he shared with them, he prayed for them, and he ministered to them. 
When my Mom passed, Dad was more alone than ever, without Mom and even without the caregivers' predictable visits. He continued to struggle with his purpose and usefulness. 
One night, suddenly awoken, he felt compelled to grab a notepad and write down words that seemed to just pour from him.  They expressed his deep desire that people would recognize Jesus as Lord and Savior, that they would turn from the distractions and emptiness that the world offers and recognize the truths of scripture.  Exhausted, he went back to sleep and didn't think about it until later the next day when I was visiting him.  He shared the text he had written with me and somewhat bewildered, I asked, "What's this for, Dad?"  He didn't know.  He just felt he had to write it down.  As we read the paragraphs over a few times, I commented that it read a lot like the gospel tracts.  Thoughtfully he considered this.  "Do you think anyone would read this if I typed it up and printed it out?" he asked. I suggested that God gave it to him for some reason, and probably not just to write down and throw away.  So that evening we typed it up and printed out his first tract.  
Feeling obedient and satisfied, we each went to bed that night content.  Unbeknownst to either of us, this was just the beginning of God's calling on my Dad for his tract writing! Dad woke up the next day and felt again the irresistible urge to write.  In a short time, he crafted another gospel sharing tract.  The next day there was another, and the next, another.  This continued until he had written 42 different tracts!  
They were a work of love and devotion and dedication, and when he was finished, Dad didn't know what he was supposed to do with them. He just knew he needed to write them.  We encouraged Dad that perhaps in this season of life when he felt weak and worthless, God was using him in the most powerful way yet. So, Dad sat with his printed tracts and waited.
"perhaps in this season of life when he felt weak and worthless, God was using him in the most powerful way yet."
When Dad passed in 2018, there was a homebuilt tract rack in his living room, filled with his thoughts and convictions. We produced more copies and set them out at his funeral.
One of Mom's beloved caregivers attended. She had shared with Dad about her adult son who had made some poor choices and was serving time in prison.  Dad had added both mother and son to his daily prayer list, and the two of them had prayed for her son's heart to be changed.  At Dad's funeral, she picked up copies of some of Dad's tracts and sent them to her son in prison. Shortly after that, she asked for a full set of his tracts.
With Dad's tracts in her son's hand, the Holy Spirit gripped his heart, and Jesus saved him from the power of sin and death, and ushered him into life.  He was a changed young man, and he began to share his faith in the only way he knew how, by giving those lifesaving tracts to the other inmates.  
In his weakest time, my Dad was faithful to minister to this woman, pray for her son, and write life-saving messages. Our God is faithful and He works in ways we can't imagine or orchestrate on our own, to accomplish His purposes.  I'm thankful that my Dad was obedient and that our faithful heavenly Father used this offering.  To God ALONE be the glory.
Loriana Sekarski is founder and president of BONSAI, a consulting company that transforms leaders (and businesses) into the best version of themselves. As a leadership coach, Loriana teaches leaders how to hone soft skills, spur workplace engagement, and achieve untapped levels of potential. Outside of BONSAI, Loriana serves as an adjunct professor at Washington University's graduate student program. Additionally, she's fine-tuning her passion project, TakeFlight, a program that addresses domestic abuse within the Christian community.
Join Us in Equipping Christians to Share their faith